As autumn leaves fall and temperatures cool down, we've compiled a list of nine new Korean dramas to watch in October 2023. From heartwarming romances to thrilling mysteries, these shows are perfect companions for the cozy autumn evenings ahead. Lets dive in!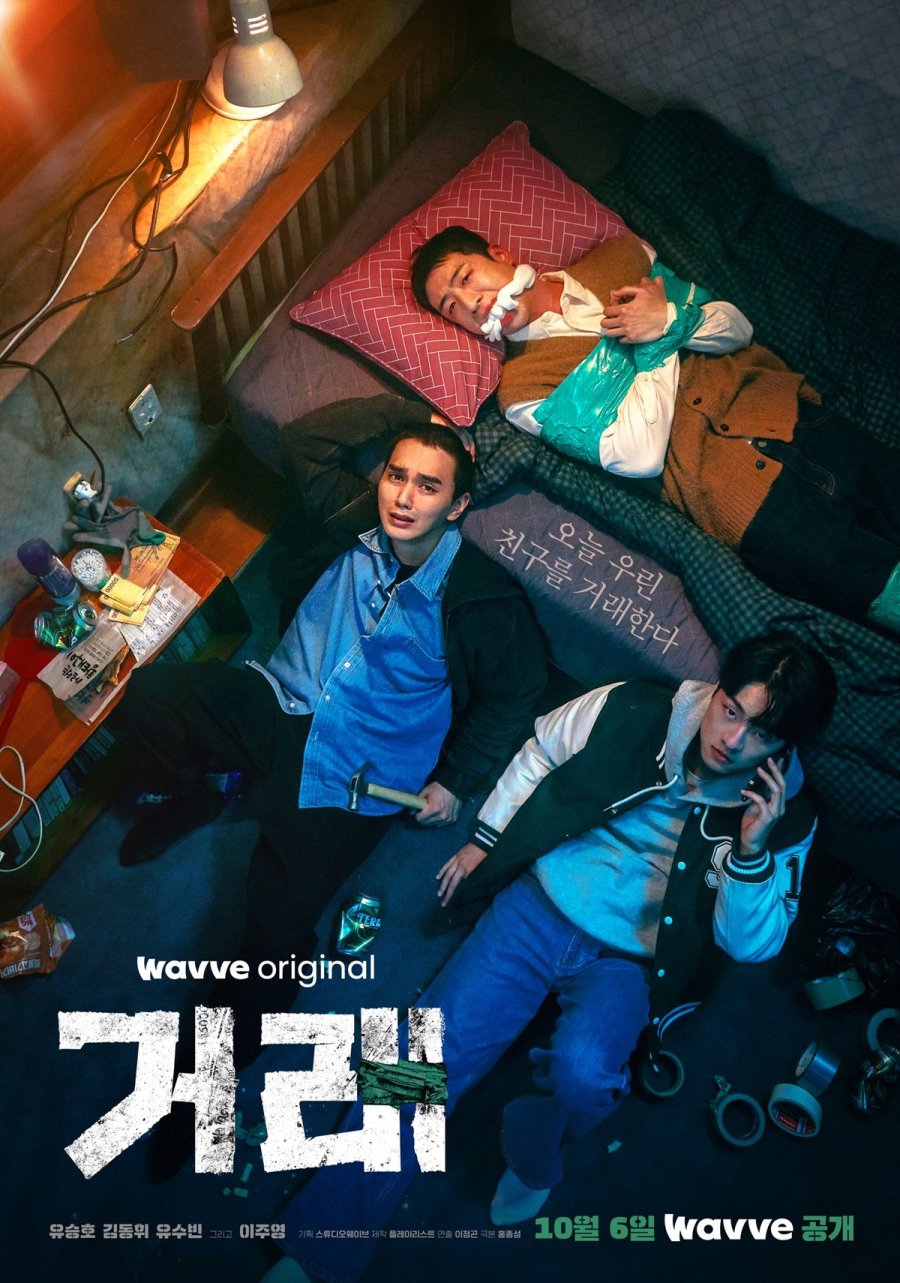 Lee Joon Sung, Song Jae Hyo, and Park Min Woo, former high school classmates in their twenties, reunite after graduation. Joon Sung, once a promising soccer talent, faced a setback in his dreams but now strives to rebuild his life. Jae Hyo, pursuing a medical education under the name Lee Jun Sung, grapples with personal challenges. Min Woo, hailing from a wealthy family, joins them for a drink. Facing a personal crisis, Jae Hyo involves Jun Sung and Min Woo in a fake kidnapping scheme to extort a billion won. However, the plan takes an unforeseen turn, plunging them into an intricate and perilous situation.
Genres: Thriller, Crime, Drama
Starring: Yoo Seung Ho, Kim Dong Hwi, Yoo Soo Bin
Release date: Oct 6, 2023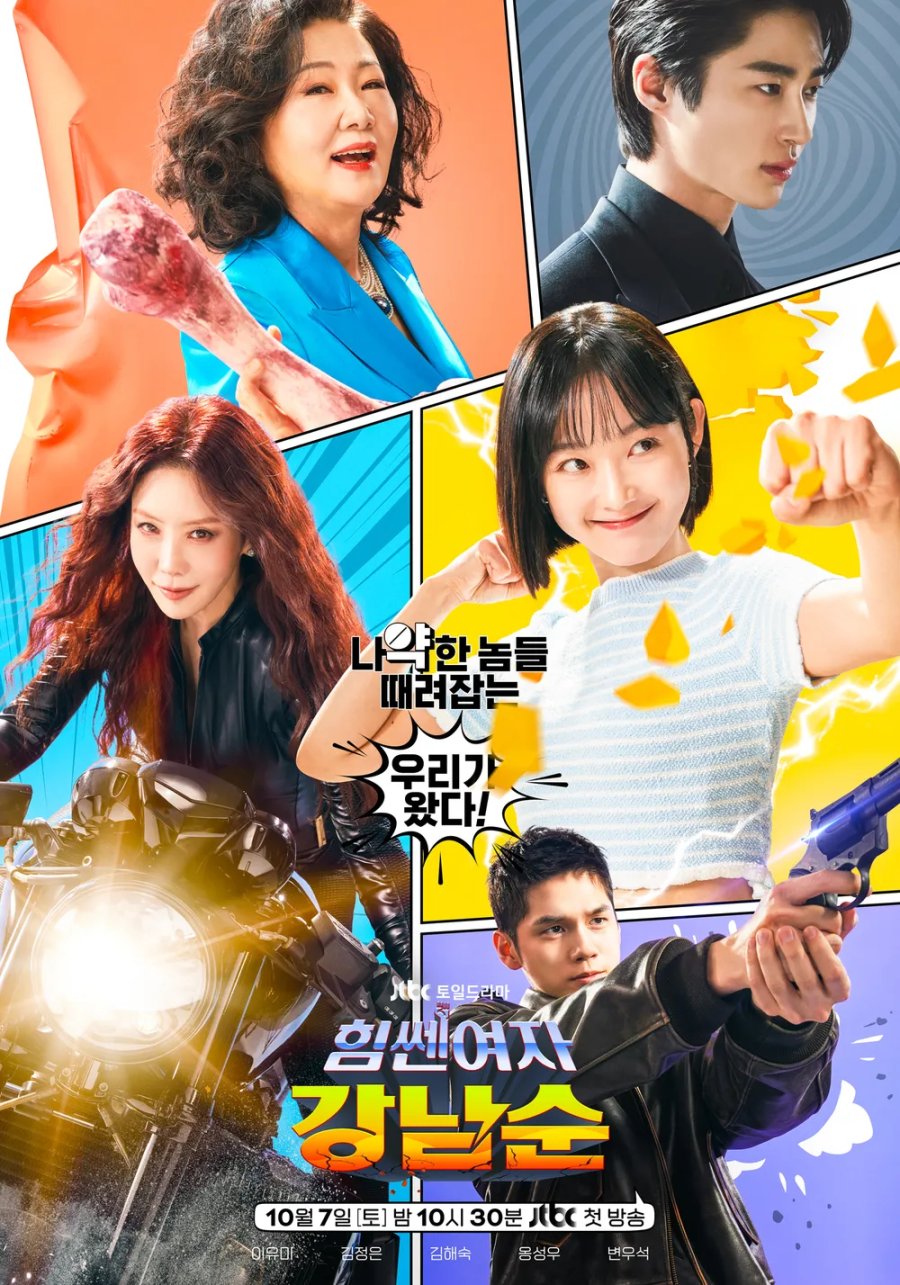 Kang Nam Soon possesses extraordinary strength and was lost as a child in Mongolia. Now an adult, she ventures to Gangnam, Seoul, South Korea in search of her parents. She reunites with her wealthy mother, Hwang Geum Joo, who had tirelessly sought her daughter and dedicated herself to virtuous acts after the loss. Gil Joong Gan, Kang Nam Soon's grandmother, also possesses superhuman strength.
In an unexpected turn of events, Kang Nam Soon, her mother Hwang Geum Joo, and grandmother Gil Joong Gan become embroiled in a drug-related incident unfolding in Gangnam. Detective Kang Hee Sik collaborates with the three women in investigating the drug case, and in the process, develops an attraction towards Kang Nam Soon.
Genres: Action, Comedy, Romance, Supernatural
Starring: Lee You Mi, Kim Jung Eun, Kim Hae Sook
Release date: Oct 7, 2023 – Nov 26, 2023
Han Hae Na, a single high school teacher, grapples with a peculiar family curse. Generations of her family are afflicted due to an ancestor's transgression—if someone from her family kisses another person, they transform into a dog at midnight for six hours, reverting to their human form afterward. The only way to break this enchantment is for the transformed individual, in their canine state, to receive a kiss from the same person. Han Hae Na, wary of romantic entanglements, diligently ensures potential partners refrain from kissing her, causing many to leave.
In an inebriated moment, Han Hae Na accidentally kisses Jin Seo Won, a fellow teacher at the high school, despite their distant colleague relationship. Fearing the consequences of her family's curse, she anxiously seeks another kiss from Seo Won to reverse the transformation. However, complications arise as Jin Seo Won harbors a deep-seated fear of dogs.
Genres: Comedy, Romance, Fantasy, Supernatural
Starring: Cha Eun Woo, Park Gyu Young, Lee Hyun Woo
Release date: Oct 11, 2023 – Jan 3, 2024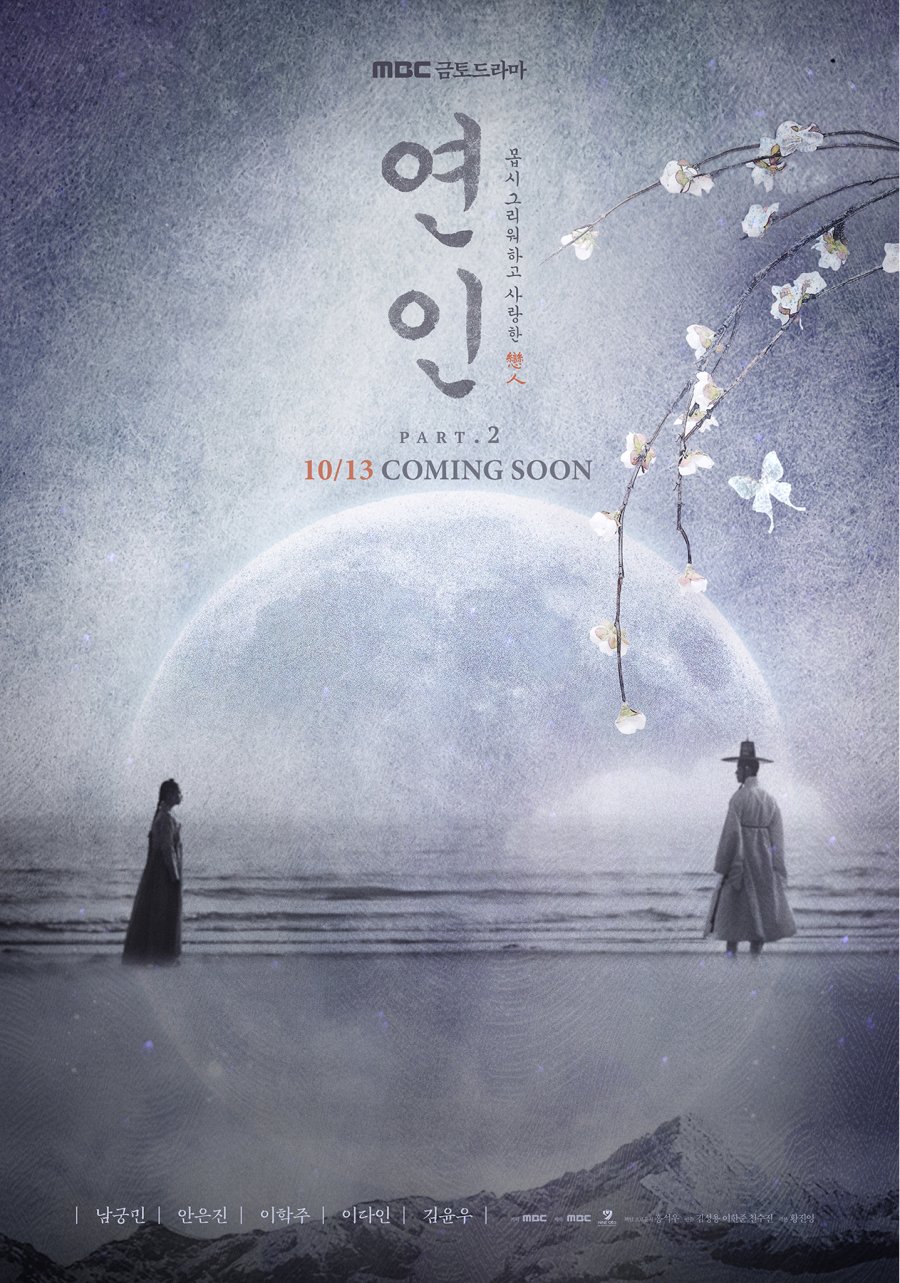 Jang Hyun, a detached and apathetic man, experiences a transformative encounter with love through Gil Chae. Gil Chae, a charismatic woman, is admired by many, but her heart belongs to Yeon Jun, who is already engaged to her best friend, Eun Ae. Yeon Jun, a Sungkyunkwan student, grapples with his emotions for Gil Chae but is bound by tradition to honor his engagement. Despite this complex situation, Eun Ae remains understanding and devoid of resentment. As Jang Hyun becomes entwined in this intricate love triangle, Gil Chae, who has only loved Yeon Jun, finds herself grappling with conflicting emotions. The outbreak of war further complicates the dynamics between these four individuals, testing their ability to endure and discover love amidst the turmoil.
Genres: Historical, Romance, Drama, Melodrama
Starring: Namkoong Min, Ahn Eun Jin, Lee Hak Joo
Release date: Oct 13, 2023 – Nov 11, 2023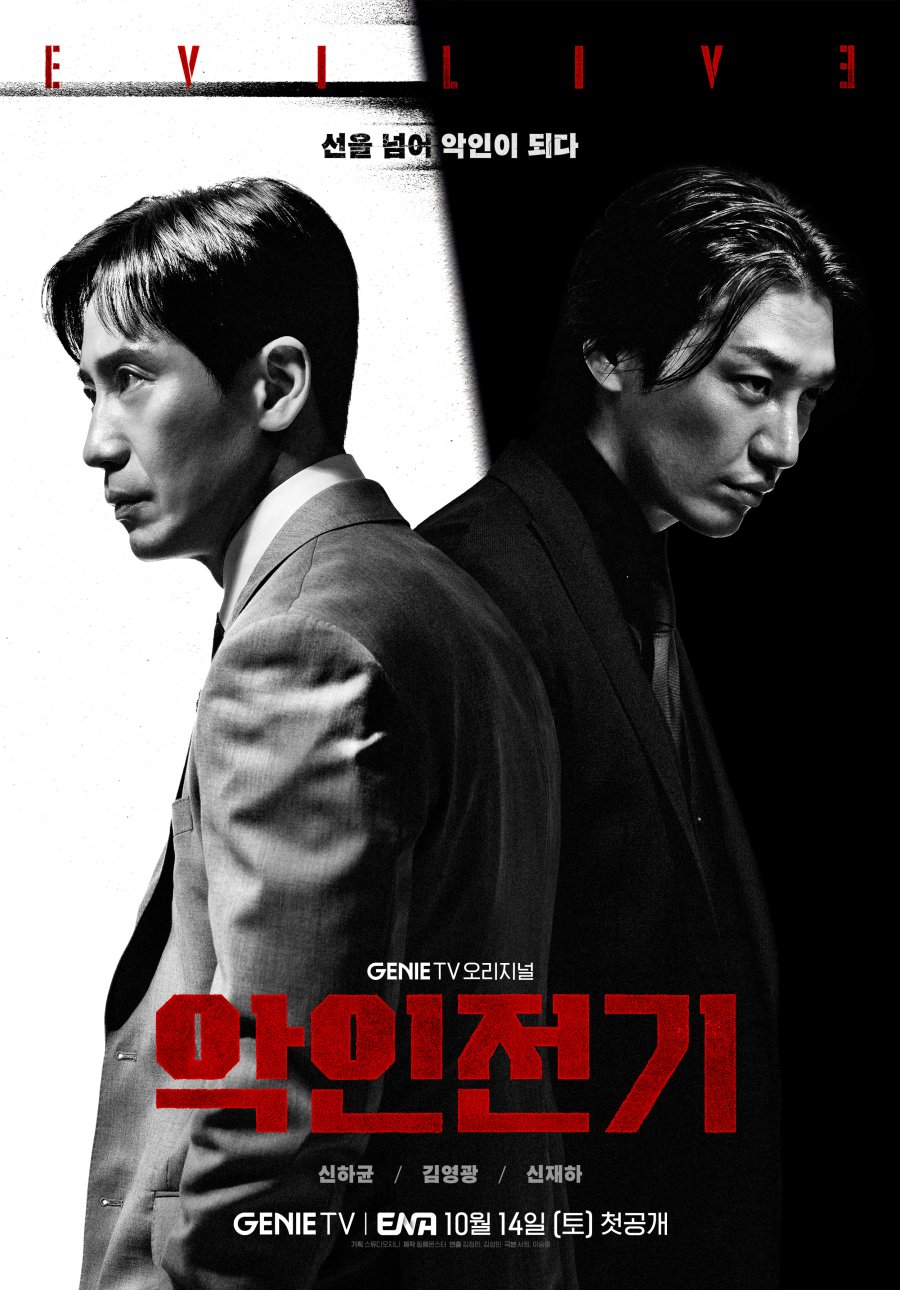 Han Dong Soo, a pragmatic livelihood lawyer, impulsively selects a prisoner to visit and takes on a new case. While typically rational, he harbors a hidden dark side within. An event triggers him to embrace this darkness and delve into the world of malevolence. His younger half-brother, Han Beom Jae, assists him by sourcing clients for legal cases. However, Beom Jae notices a change in Dong Soo's demeanor following a particular case involving Seo Do Young, the second-ranking member of a crime syndicate. Despite Do Young's charismatic appearance as a former baseball player, he conceals a sinister and unpredictable cruelty beneath his handsome façade.
Genres: Thriller, Mystery, Crime, Drama
Starring: Shin Ha Kyun, Kim Young Kwang, Shin Jae Ha
Release date: Oct 14, 2023 – Nov 12, 2023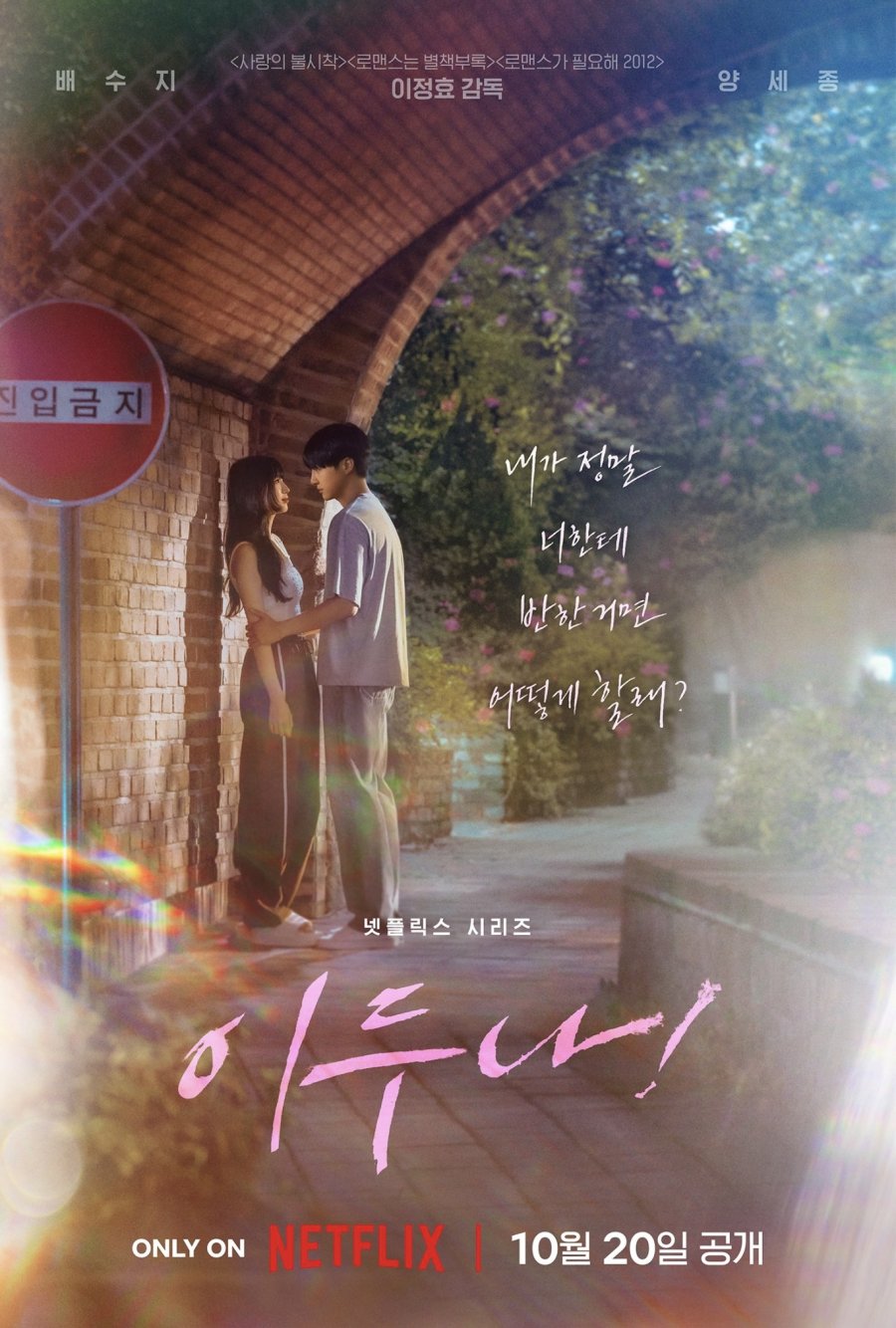 On his first day of college, Joon moves into a new apartment, unaware that former celebrity Duna resides downstairs. Initially attempting to steer clear, Joon becomes increasingly intrigued by Duna's enigmatic life.
Genres: Comedy, Romance, Youth, Drama
Starring: Bae Suzy, Yang Se Jong, Park Se Wan
Release date: Oct 20, 2023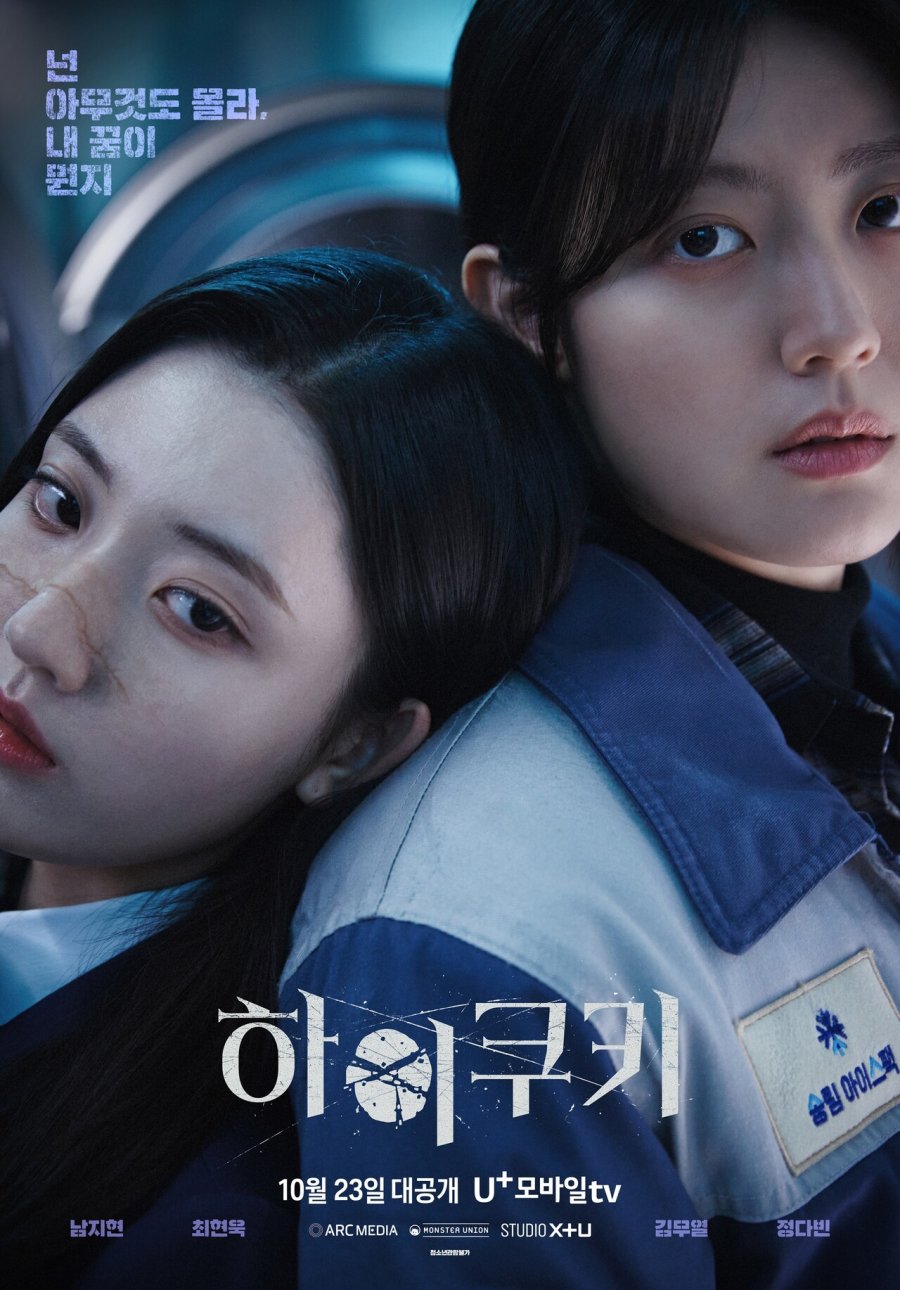 This teen fantasy thriller drama follows the gripping tale of individuals trapped in a perilous situation caused by a malevolent cookie that manifests wishes into reality with a single bite.
Choi Soo Young, burdened with the responsibility of caring for her younger sister after losing their parents, becomes the family's sole provider at the age of 18. Sacrificing her education, she juggles multiple part-time jobs to support her family. When her sister encounters trouble due to a homemade cookie, Soo Young takes immense risks to protect her.
Seo Ho Su, a third-year student at the prestigious Junghan High School in South Korea, faces personal challenges as his mother battles cancer and his father remains absent. Despite his determination to focus on studies, he grapples with mistreatment from affluent classmates who perceive him as an easy target.
Genres: Thriller, Mystery, Youth, Fantasy
Starring: Nam Ji Hyun, Choi Hyun Wook, Kim Mu Yeol
Release date: Oct 23, 2023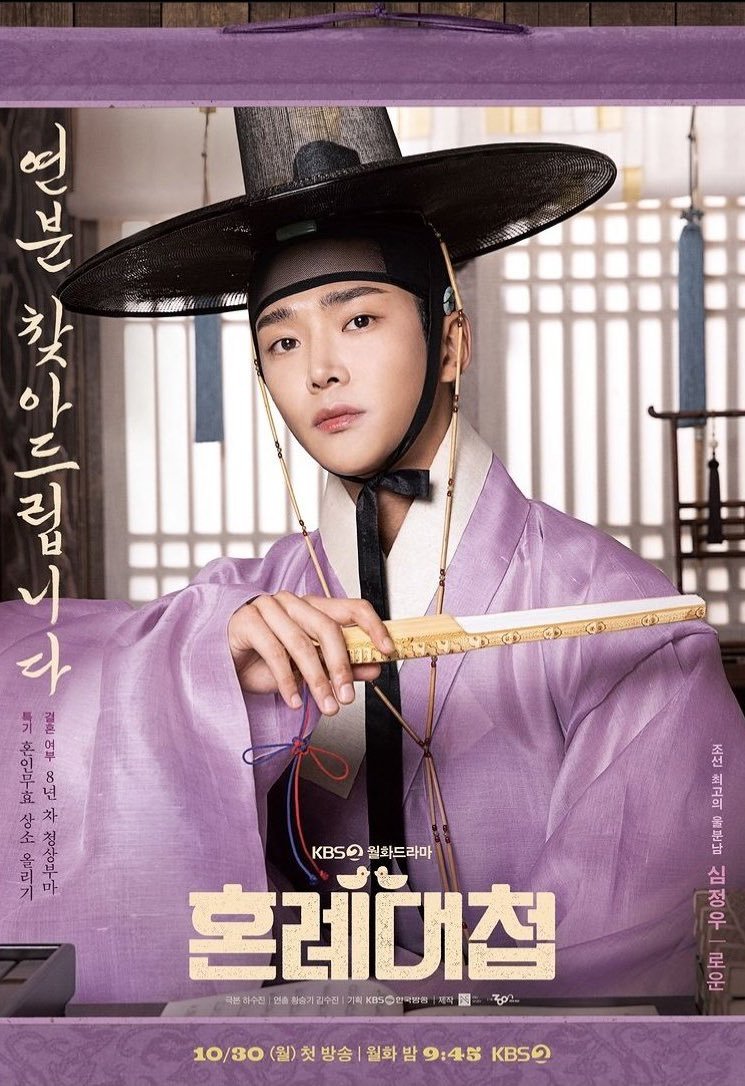 In this historical drama, "The Matchmaker's Secret," the narrative revolves around Sim Jung Woo, a gifted and attractive young man who achieved top honors in the state examination at a young age. Unexpectedly, he is selected to be the husband of the princess. Tragically, the princess passes away during their wedding, altering Jung Woo's fate drastically. As per Joseon period customs, he is forbidden from holding a government position and cannot enter into another marriage. His life takes a downturn, marking him as an exceptionally unlucky individual.
Jung Soon Deok, on the other hand, is a widow with a clandestine identity as Yeo Joo Daek. She is the widow of the second son of the first vice-premier, leading a dual life. Disguised as Yeo Joo Daek, she excels as a matchmaker and a seller of women's products like cosmetics and accessories. Operating in the capital city of Hanyang, she holds the title of the finest matchmaker. Sim Jung Woo and Jung Soon Deok, amidst their own challenges, form a connection and endeavor to unite older single men and women through their roles as matchmakers.
Genres: Historical, Comedy, Romance
Starring: Rowoon, Cho Yi Hyun, Jo Han Chul
Release date: Oct 30, 2023 – Dec 19, 2023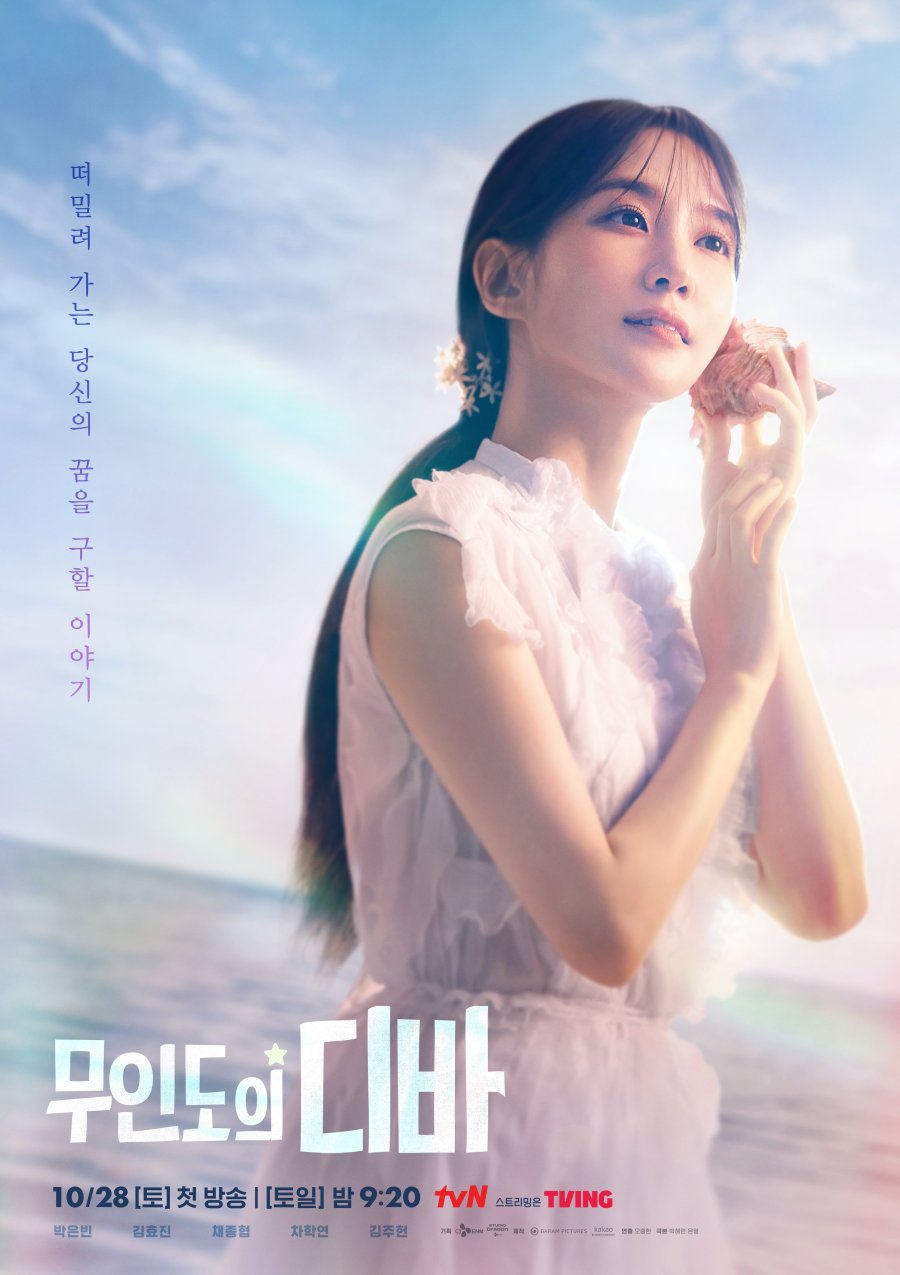 The story revolves around Mok Ha, a young girl with aspirations of becoming a singer. During her middle school years, she mysteriously disappears and finds herself stranded on a deserted island. Remarkably, she survives in solitude for a staggering 15 years. However, her life takes a dramatic turn when she is eventually rescued from the island. Adapting to the complexities of modern society proves to be a significant challenge for Mok Ha, adding an intriguing dimension to the narrative.
Genres: Music, Comedy, Romance, Life
Starring: Park Eun Bin, Kim Hyo Jin, Chae Jong Hyeop
Release date: Oct 28, 2023 – Dec 3, 2023